Here we will help you fix your iPhone screen flickering problems. The iPhone screen could be defective, or a hardware component could be faulty also. There are two categories of device problems which are either related to the software or related to the hardware. The user can easily solve those issues that are related to software as compared to those issues that are related to the hardware problems.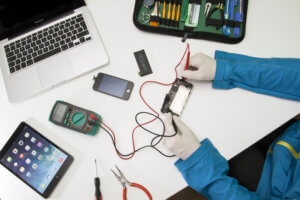 We have laid down steps down here to help you troubleshoot and solve your iPhone screen flickering problems. It is a good practice to test
whether your problem has been fixed after you try each step that we have outlined here.
Step 1:
Hard Reset
First ensure that your iPhone has enough power and your battery is working fine, then try restarting your iPhone. Small errors are
easily solved by a simply restarting your phone. Long press the power button together with the home button the same time until you see the apple logo on your screen. This will hard reset your phone, which can help fix the issue.
Step 2:
Configure Display Settings
Configuration the display settings, that reduces the brightness of your screen or try disabling the automatic brightness on your screen then observe how the device will behave. To be able to change the screen brightness, you swipe up from the bottom. Thus, the control centre will be opened, from there on you need to manually adjust the screen brightness by touching the slider and dragging it.
Step 3:
Turn On Reduce Transparency
turn on the Reduce Transparency feature. This makes sure that you can comfortably read the text on your iPhone. This sorts out the screen being unresponsive and the screen display of the iPhone flickering for the user with iOS 9 this can be done by accessing the Settings then go general > Accessibility and then increase contrast. Once you are here, you can tap a switch that is next to the reduce the transparency button.
Step 4:
Check Memory Usage
A memory issue could be the cause of the flickering of your screen thus it's good to check your phone's memory. Make sure that your memory storage is favourable to carry out many processes.
Step 5:
Factory Reset
After trying out all the steps that we have laid out above this should be the last option do a factory reset. You should make sure that you have backed up all your data before doing this step. This will erase all data you have on your phone and restore it to the default settings you bought it with. With this step, we'll try to eliminate the likelihood of a problem being caused by viruses or corrupted applications. If you don't want to lose your data, you should take it to a professional.
If after trying out all the above applications nothing works out, then find a hardware specialist and he will help you diagnose it.
We here at Northampton apple repair hope you found this information useful. If you have any questions you can get in contact here, our team will be happy to help.